Tracey Agnew
Financial Advisor *
Mutual Fund Investment Specialist**
Agnew Insurance Ltd
Financial Advisor *
Spécialiste en épargne collective**
Agnew Insurance Ltd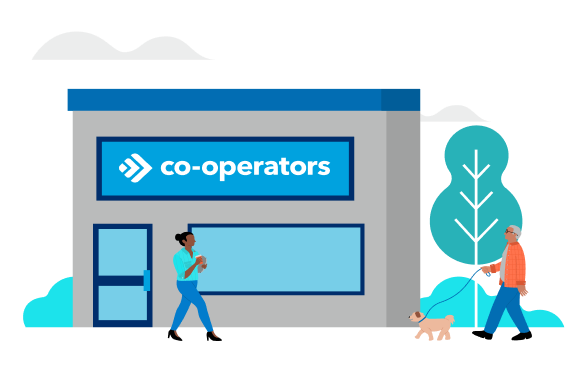 Why choose us?
As your partner in investing and as your neighbours in the community, we're committed to creating a better, more sustainable and resilient future. Our co-operative identity anchors our decision-making to who we are as an organization and pushes us to go further to create positive change. We exist to strengthen the financial security of our clients and their communities.
Get an insurance quote
Obtenez une soumission d'assurance
Co-operators in your community
Street Sisters Society
Street Sisters Society is a local organization supporting vulnerable individuals experiencing homelessness in our community. Street Sisters delivers basic necessity items and provides relationship and mentorship to help impacted individuals on their journey to recovery. Agnew Insurance Ltd participates in an annual donation drive in support of Street Sisters each year. Stay tuned to our social pages for more info!
Tuscany Harvest Festival
We are a proud Platinum Sponsor of the annual Tuscany Harvest Festival. Join us in September for a day of community fun, treats and activities for the whole family! Stay tuned to our Facebook page for more information.
ACCA Youth Leadership Programs & Goldeye Centre
We're proud to help send youth to an annual leadership camp to build confidence, gain leadership skills and learn co-operative values. We love to support through supply donations, camp fees, and facility maintenance.
TSA West Volleyball, and NW Calgary sports teams and clubs!
We are proud to partner with TSA, supporting their volleyball teams. Sports help youth stay fit both physically and mentally, develop leadership and teamwork skills, and gain a sense of belonging. As a team of parents with children in several extra-curricular activities, Agnew Insurance Ltd. knows the importance of teamwork in our youth. We are a proud sponsor of fundraisers and tournaments for teams in Calgary.
STARS Ambulance & Calgary Children's Hospital
Through monetary support and event sponsorship, Agnew Insurance Ltd. is proud to aid emergency services in their continued efforts to provide outstanding medical assistance to our community.
Canadian Cancer Society & The Ride to Conquer Cancer
With several clients participating in The Enbridge Ride to Conquer Cancer each year, Agnew Insurance Ltd. is proud to support fundraising efforts and provide a support vehicle on race day for the brave riders!
Calgary Women's Shelter, Children's Cottage Society, Inn from the Cold & Calgary Drop-In Centre
Agnew Insurance Ltd. holds clothing/toy drives throughout the year supporting various shelters in our city. Check out our Facebook page, drop off any items to our office and we will deliver!
Watermark at Bearspaw, Tuscany Community Association (TCA), Rocky Ridge Royal Oak Community Association (RRROCA), Bearspaw Lions Club
Catch our team out at events in your community! We are proud to support events and fundraisers in our surrounding communities.
Veteran's Food Bank & Calgary Food Bank
Stay tuned for our food drives throughout the year! Agnew Insurance Ltd. is happy to collect and deliver non-perishable food items to those in need in our city.
Sarah Faith Hogan Memorial Foundation
We're proud to support the Sarah Faith Hogan Memorial Foundation in providing support to families facing adversity and unexpected costs during the first steps in their newborn's life.
*Offering insurance products underwritten by Co-operators General Insurance Company and Co-operators Life Insurance Company.
**Offering mutual funds through Co-operators Financial Investment Services.